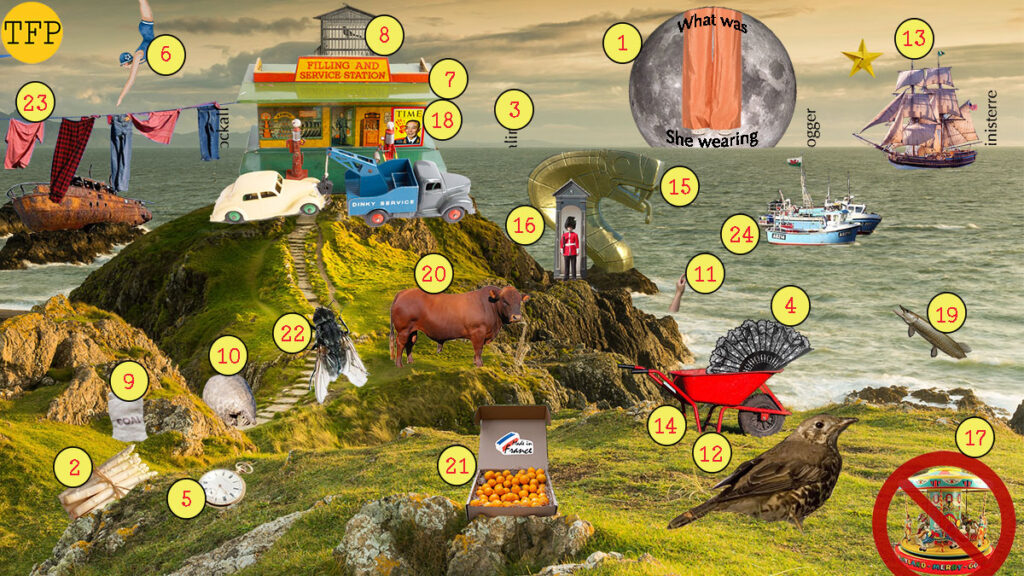 "She was wearing the coral taffeta trousers" from 'Full Moon' by Vita Sackville-West
'White Asparagus' by Sujata Bhatt
"Rockall. Malin. Dogger. Finisterre." from 'Prayer' by Carol Ann Duffy
'The Black Lace Fan My Mother Gave Me' by Evan Boland
"Love set you going like a fat gold watch" from 'Morning Song' by Sylvia Plath
'Diving into the Wreck' by Adrienne Rich
'Filling Station' by Elizabeth Bishop
'Caged Bird' by Maya Angelou
'Coal' by Audre Lourde
'The Pangolin' by Fleur Adcock
'Not Waving but Drowning' by Stevie Smith
"An aged thrush, frail, gaunt and small" from 'The Darkling Thrush' by Thomas Hardy
"And all I ask is a tall ship and a start to steer her by" from 'Sea-Fever' by John Masefield
"So much depends / upon // a red wheel / barrow" from 'The Red Wheelbarrow' by William Carlos Williams
"A snake came to my water trough" from 'Snake' by D. H. Lawrence
"We saw a guard in a sentry box" from 'Buckingham Palace' by A. A. Milne
"It's no go the merrygoround, it's no go the rickshaw" from 'Bagpipe Music' by Louis MacNeice
"I'm obsessed by Time Magazine" from 'America' by Allan Ginsberg
'Pike' by Ted Hughes
"Brag, sweet tenor bull, / descant on Rawthey's madrigal" from 'Briggflatts' by Basil Bunting
"One year / a box of tangerines arrived for me from France." from 'Tangerines' by Hugo Williams
'The Fly' by Miroslav Holub
'Ode to the Clothesline' by Kwame Dawes
"down to the sloeback, slow, black, crowblack, fishingboat bobbing sea" from 'Under Milk Wood' by Dylan Thomas
If you enjoyed this quiz, do us a favour and tweet about it so that we can share the Friday Poem further afield?
I just did The Friday Poem Christmas Quiz. Why not have a go yourself?
Click To Tweet