Hidden in our picture are clues to 24 poems. We are looking for the name of the poem, the name of the poet and, if appropriate, the relevant line. So, get a pen and paper, charge a tumbler with your favourite libation, and put your thinking cap on.
Screen reader text explaining the image. The image shows a green rocky landscape, also the sea and bits of seashore. Various clues are collaged onto the image. 1. A large moon has what looks like coral pink trousers superimposed on it, along with the words 'what was she wearing'. 2. A bunch of asparagus, it's not green. 3. Emerging from the sea are partial words 'ckall' 'alin' 'ogger' 'inisterre' . 4. There is a fan, it's black. 5. A gold pocket watch. 6. A person is diving, below is a wrecked ship. 7. A filling station. 8. A cage with a bird in it. 9. A sack with 'coal' written on it. 10. A pangolin. 11. A hand emerges from the water. 12. An old small song bird. 13. A square-rigged ship and a star. 14. A wheelbarrow, it's not grey. 15. A golden snake. 16. A guard in a box, he's wearing a bearskin hat. 17. A merry-go-round with a stop sign superimposed. 19. A copy of Time Magazine (1956). 20. A large carnivorous freshwater fish. 21. A box of small oranges, with a French flag. 22. A fly. 23. A line with washing hanging on it. 24. Some fishing boats moving up and down on the water. The answers on the answer page have the same numbers.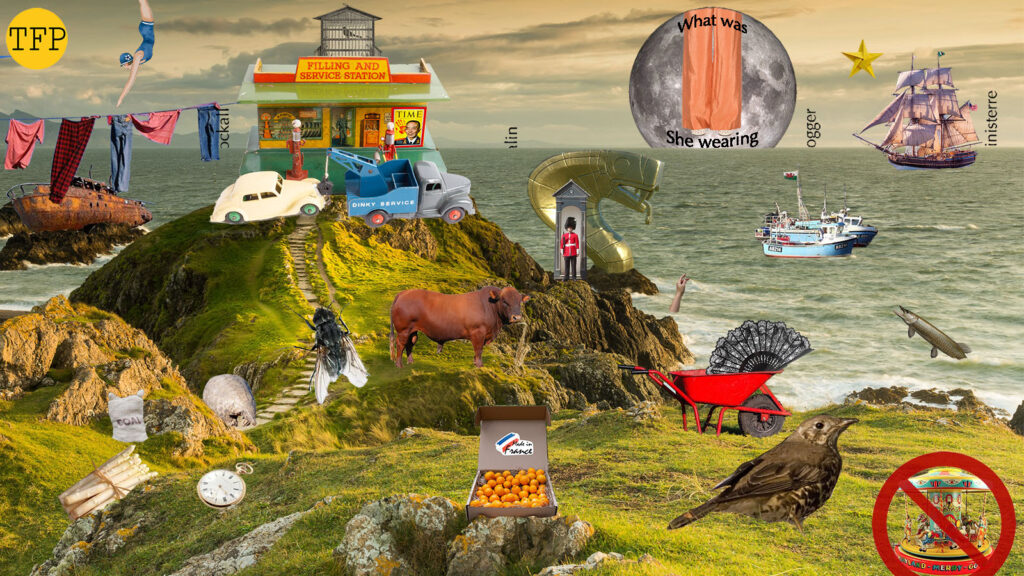 When you have got them all or are so bored that you could stab yourself in the eye with a fork, have a look at the answers to our Quiz.